Deoxyarbutin
CAS:

53936-56-4
Synonyms:
Deoxyarbutin;4-[(Tetrahydro-2H-pyran-2-yl)oxy]phenol;Tetrahydropyranyloxyphenol;Phenol,4-[(tetrahydro-2H-pyran-2-yl)oxy]-;Deoxyarbutin 4-[(Tetrahydro-2H-pyran-2-yl)oxy]phenol
Description
Deoxyarbutin, a new skin lightening ingredient, can effectively inhibit tyrosinase's activity and melanogenesis to get significant and lasting lightening effects. It is safer, more stable, less cytotoxic, less irritating to skin and better absorbed.
For skin lightening effect, deoxyarbutin is 350 times more effective than arbutin, 150 times more effective than kojic acid, 10 times more effective than hydroquinone.
Specification:
Synonyms:Deoxyarbutin;4-[(Tetrahydro-2H-pyran-2-yl)oxy]phenol;Tetrahydropyranyloxyphenol;Phenol,4-[(tetrahydro-2H-pyran-2-yl)oxy]-;Deoxyarbutin 4-[(Tetrahydro-2H-pyran-2-yl)oxy]phenol
Product Name: Deoxyarbutin
Chemical Name: 4-[(Tetrahydrofuran-2-yl)oxy]phenol
Molecular Formula: C11H14O3
Molecular Weight: 194.23
Molecular Structure: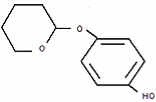 Appearance: White or like-white powder
Assay: ≥99%
Melting Point: 82-87℃
Product ID: 418188
Heavy metals: ≤10 ppm
Hydroquinone: ≤10 ppm
Total bacteria: ≤100 CFU/g
Loss on drying: ≤0.5%
Package: 0.5kg、1kg/PVC(inside) + aluminum foil bag (outside)
Storage:
Store in full closed container in a cool, dry place. Light and air can darken the product.
Avoid strong acids and strong bases.
Advising dosage is 0.1%-3%.